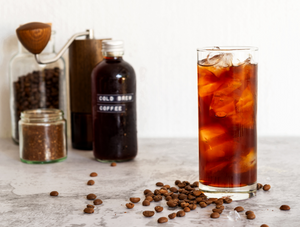 Cold brew can count as one of your 6 bottles for the delivery special now!
Nitro Cold Brew Coffee is by Draft Signature Coffee formally Draft Signature Drinks.  Draft Signature Drinks was a local company that we purchased here in 2022.  Our Nitro Cold Brew is made using a blend of dark and medium roasted Colombia beans.   Infusing it with the nitro gives it a nice dark caramel flavor.  This blend of beans make this cold brew a very approachable cold brew that appeals to a broader audience.
Cold Brew is available for wholesale purchase for restaurant, coffee shops, office spaces, breweries and bars.  It is currently available by 1/6 bbl and 1/2 bbl kegs or 32 oz. refillable bottles.  12 oz. cans will be available early 2023.